Bass Booster
Bass Boost App – Enhance the Sound Quality of Your Phone
Do you enjoy listening to music? Do you wish to listen to your favorite tracks in the best possible sound? If yes, then this bass boost app is a must-have for you. Bass Booster is a nice app that improves the quality of the audio feedback of your phone and allows you to customize your music-listening experience. It allows you to make changes to the bass of the tracks you are listening to and lets you customize the sound as per your wishes. You are offered a 5-band equalizer that comes with many presets. There is the option available to create a custom preset for the equalizer too. You can save that preset and then use it whenever you want by simply loading it like the other presets.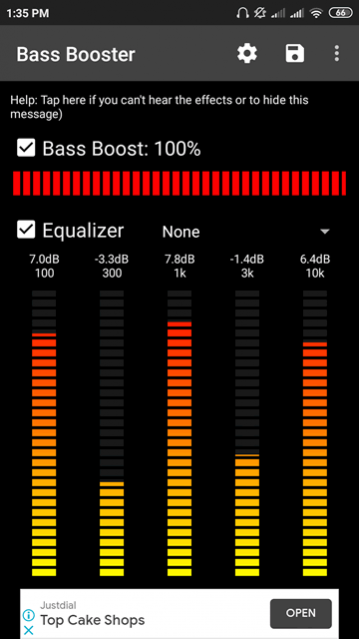 Bass Booster has an intuitive user interface that complements its simple design and layout. The combination of these features makes using this bass boost app an easy task for everyone. You will find the 5-band equalizer and the bass booster on the home screen of this app. However, do keep in mind that both of them need to be enabled before you can make use of them. There is a check-box located at the left-hand side of both the equalizer and the bass booster. You need to check these boxes if you want to start using these two features. Once enabled, you can increase or decrease the bass by simply sliding your finger on the slider provided to you. Similarly, you can set the equalizer as per your preference by sliding the buttons up and down on the slider bars.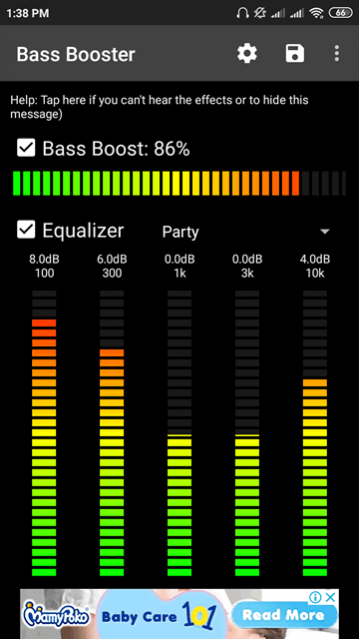 The bass booster of this bass boost app requires you to connect a headset or a speaker to the device before enabling it. This is needed to protect the internal speaker of the phone. Once the external audio device has been connected, you can use the bass booster feature without encountering any issues. The 5-band equalizer that you get in this app comes with a variety of presets. Each preset has its own name and is designed for specific types of tracks. You can choose a preset for the music you are playing from the drop-down menu that can be accessed by clicking its button located towards the right of the equalizer. If the preset isn't up to your liking, you can create a custom preset and save it with a name of your choice.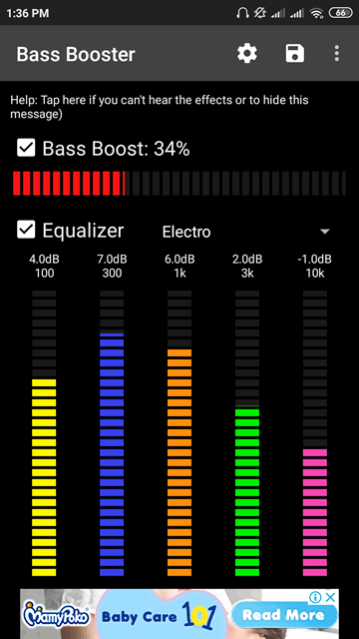 Bass Booster simply boosts the bass of the music that is playing in the background. It isn't a music player. So, you need to play the music from your phone's music player first and then utilize the bass booster and equalizer options provided by this bass boost app. You are offered various customization options in this app as well. The most prominent option among them is that of colorful themes that can give this bass booster a dynamic look. You will find these themes in the 'Settings' section of the app. The 'Settings' section can be accessed by clicking its icon that is located on the top-right corner of the home screen.
Features:
Intuitive user interface
Simple design and layout
5-band equalizer with lots of presets
More than 20 presets available
Chance to create custom presets
Various themes available
Music visualizer option
Conclusion:
Bass Booster is an app that is ideal for people who love listening to music but aren't satisfied with the sound of their phone. It provides them a bass booster as well as a 5-band equalizer that helps them fine-tune the audio of their device and lets them enjoy their favorite tracks as they want to. It is a bass boost app worth having on your phone.
---
Add a review
Tell us your experience with
Bass Booster
RELATED PROGRAMS
Our Recommendations
---
---
---
---